Fliegerlied lyrics
FLIEGERLIED LYRICS: Still an Oktoberfest newbie, the Fliegerlied or So ein Schöner Tag (Today is Such a Beautiful Day) is already a classic.

The reasons are twofold: firstly, it's an Ohrwürm, the colourful German term meaning "ear worm"which denotes a tune that gets
stuck in your head.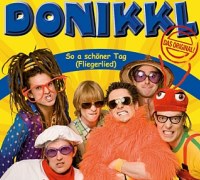 Secondly: hand movements! You see you can't just learn the words to the Fliegerlied, you've gotta learn to pretend to swim, flex your biceps and jump along with the tune.
It's all very, very silly and heaps of fun.

Bavarian band Donikkl released the song in 2008 and a cover by singer Tim Toupet hit German top 10 the year after.
Here's Toupet's version.

Lyrics to Fliegerlied

German Fliegerlied Lyrics
"So ein schöner Tag
(Fliegerlied)"

Ich lieg gern im Gras und schau zum Himmel rauf.
Schaun die ganzen die Wolken nicht lustig aus?

Und Fliegt ein Flieger vorbei,
dann wink ich zu ihm rauf.
(Kinder: "Hallo Flieger")

Und bist du auch noch dabei,
dann bin super drauf.

Und ich flieg, flieg, flieg, wie ein Flieger
bin so stark, stark, stark,
wie ein Tiger
und so groß, groß, groß, wie 'ne Giraffe
so hoch uoh-oh-oh
und ich spring, spring, spring immer wieder
und ich schwimm, schwimm, schwimm
zu dir rüber und ich nehm, nehm, nehm dich bei der Hand weil ich dich mag
und ich sag:
Heut ist so ein schöner Tag - la, la, la, la, la

(Wiederholung)



English Fliegerlied Lyrics

"Today is Such a Beautiful Day (Flier song)"
I like to lay in the grass and look up at the sky.
Don't all the clouds look
funny?
And a plane flies past,
and I wave up at it.
(Kids: "Hello flier")
And if you're there too,
then I feel fantastic.
And I fly, fly, fly, like a plane
am so strong, strong, strong
like a tiger
and so tall, tall, tall like a
giraffe
and tall all-oh-oh
and I jump, jump, jump
and keep on jumping
and I swim, swim,
swim
over to you and I take, take, take
you by the hand because I
like you
and I say
Today is such a beautiful day - la, la, la, la, la
(Repeat)
How about joining our Facebook group!
Or find me on
Google
+